Alaska Halibut Fishing Charters in Homer AK
Welcome to the Halibut Fishing Capital of Alaska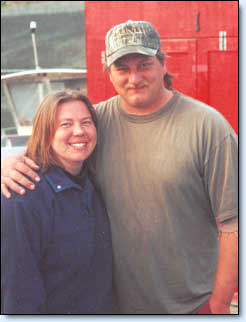 Brian and Jane met in 1995. Jane was deck handing on a charter boat and Brian was running a boat for another company. You could say they both have fishing in there blood. Brian grew up bass fishing in Southern California and the family currently spends their winters fishing on bass tournament circuits at a professional level.
Jane is now a Registered Nurse and occasionally goes out fishing. These days, only calm weather and sunny skies invite her out on the water.

Lucas Allen Nollar was born May 19th, 2005. He already shows signs of having fishing in his blood.

Captain Brian Nollar
Box 3107 · Homer · Alaska · 99603
Cell 907-299-3047
Email: bnollar66@gmail.com
Site created & maintained by Net Alaska Web Services Homer, Alaska
© Midnight Sun Halibut Charters and Net Alaska Web Services, Homer, AK